Lessons!
In ReShortcuts you will learn by repeating ReSharper shortcuts.
For each lesson I will show you up to 10 ReSharper features with shortcut prompt.

All of these shortcuts are displayed randomly. Every shortcut prompt is displayed only twice. From the third time instead of shortcut you will see three question marks. This means that you need to remember which shortcut you should use. Of course, if you will press wrong shortcut, I will prompt you the proper one :).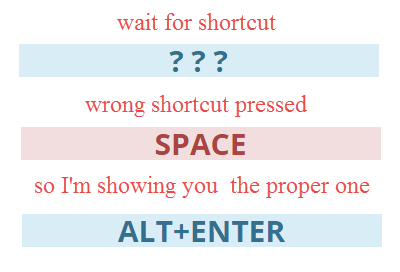 This process will repeat as long as you provide proper shortcut for all features for 5 times. And "provide proper shortcut" means I'm not counting the wrong ones :)
Sounds interesting?
Open Lesson 1 and start learning!
Follow me on Twitter!
Additionally to doing lessons on ReShortcuts you can follow me on Twitter where I'm posting all new Tips & Tricks and interesting posts from other sites!